If you have an interest in tattoos, there is a good possibility that you are familiar with the expression "think before you ink." It has never been simpler to experiment with the permanence of tattooing than now, all thanks to the augmented reality (AR) application known as INKHUNTER.
The application allows users to "try on" virtual tattoos and change them to be more personalized to their preferences. The user has full control over the selection of the photos that are used for the tattoo designs.
Learn more about the INKHUNTER app's features in this article and discover how it uses augmented reality (AR) technology to help you visualize tattoos on your body.
What Is the INKHUNTER App?
How Did INKHUNTER Start?
How to Set Up the Tattoo Augmented Reality Feature
How to Use INKHUNTER to Visualize a Tattoo On Your Body
Why Do Tattoo Artists Suggest Trying INKHUNTER First?
How INKHUNTER Promotes Tattoo Artists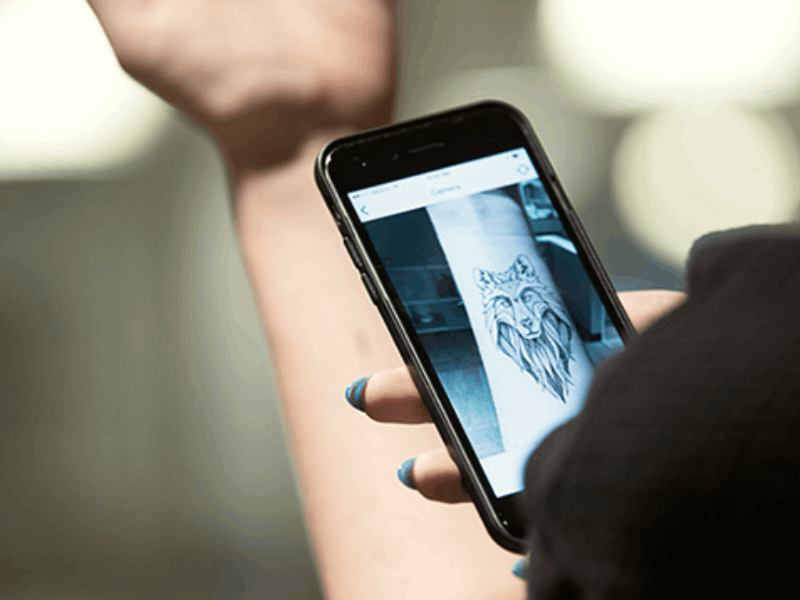 What Is The INKHUNTER App?
The INKHUNTER app features a wide variety of tattoos, each created by a professional tattoo artist. You can test it out virtually by utilizing the magic of augmented reality driven by your smartphone, which will place pixels on your flesh in real time.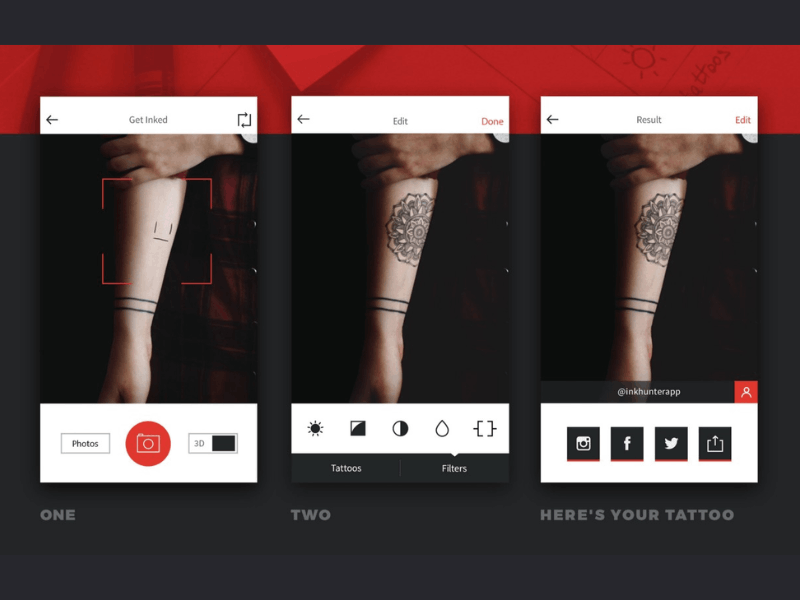 INKHUNTER is a unique app that allows you to consider a piece of body art with significantly increased self-assurance. You can even upload your own drawings to the app to determine if your drawing abilities are good enough to be tattooed onto your body.
This app is similar to the concept of "test before you purchase." To put it more plainly, it's an app that lets you "ink" a tattoo on your skin before committing to having it permanently applied to your body.
The app uses augmented reality technology through a mobile device's camera to place and overlay a tattoo design.
How Can You Download The INKHUNTER App?
Even though the INKHUNTER was initially launched on iOS devices, Android and iOS device users can now enjoy using the app.
The INKHUNTER app is free to download and use from the Google Play Store and the Apple App Store. There are no in-app purchase items or premium subscription plans available.
You only need to install the INKHUNTER app on AndroidOS 4.1 (and up) devices and iOS 8.0 (or later) to ensure a smooth user experience.
How Did INKHUNTER Start?
INKHUNTER is a small team from Ukraine comprised of young and ambitious individuals. INKHUNTER is a tool they've developed to assist tattoo artists and enthusiasts in visualizing the exact size and placement of any design on any part of the body.
The idea came from a 48-hour hackathon in July 2014. Two original team members decided to keep working on the project after that. They rewrote and redesigned the INKHUNTER app.
The developers have made the INKHUNTER app entertaining, simple, and painless for you to try on as many designs as you want, whenever you want, so you won't have any regrets.
How Does Augmented Reality Make INKHUNTER Effective?
INKHUNTER makes use of a feature known as augmented reality, which enables users to edit real-world photos by way of the camera on their mobile device. You can use this to make visuals not present in the real world appear on your phone's screen.
INKHUNTER makes it possible to experiment with different tattoos by using this technology. You can upload a tattoo to the program or use one of the supplied stencils and then apply it to an area of your body.
After that, you will have the opportunity to test it in real-time. The virtual tattoo, much like a genuine one, will remain in place no matter how you move your arm.
How to Set Up the Tattoo Augmented Reality Feature
To start, the app asks you to put a little ink on your skin. You have to draw a flat-lined emoji face (called a "Square Smile") on your body in the spot where you'd like to try on the tattoo designs. This sets up the AR technology to work in that spot.
Then, the AR technology uses the camera on your phone and your three ink marks to place and cover what might be your next tattoo. So you're looking at yourself with tattoos through your phone's screen.
Thanks to the power of augmented reality technology, you'll be able to visualize how a tattoo will look on a specific body part.
Other Features of the INKHUNTER App
INKHUNTER allows you to take a picture of your augmented reality tattoo to save it for future reference or show it to your friends and get their feedback. Sometimes, it is important to get the opinion of others to assess if the tattoo looks good on you.
Users are also provided tools to edit the photo, and the app allows users to directly share the final image of the tattoo they intend to get on social media.
In addition, it has a blur effect that immediately imitates how your tattoo might look after some years have passed. For example, when the lines are less sharply defined than they usually are.
How to Use INKHUNTER to Visualize a Tattoo On Your Body
The INKHUNTER software is straightforward to operate. Downloading the app and delving into its assortment of stencils is the first step toward getting started. INKHUNTER provides users with access to thousands of stencils that may be downloaded.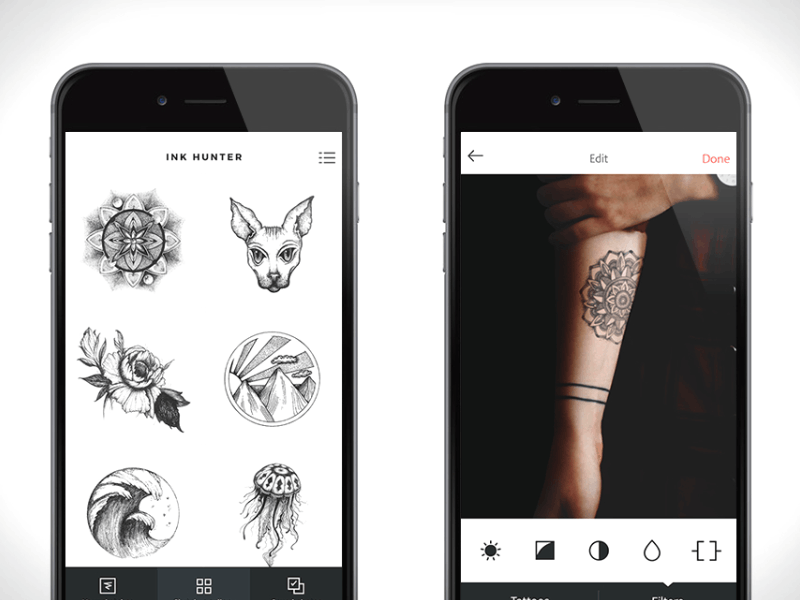 You can search for and import your own tattoo designs into the app if nothing in the gallery strikes your fancy.
After you have completed these steps, the tattoo will appear in the spot on the app where you drew the happy face. You can test out the tattoo in real-time as long as the mark is still on your skin.
How to Finish Your AR Tattoo on INKHUNTER
After you are finished, you have the option of adding your tattoo to your favorites and attempting it again at a later time. You can save an unlimited number of tattoos.
After you have had sufficient practice with it and have determined that you want it for real, all that is left to do is take your design to a tattoo artist.
Why Do Tattoo Artists Suggest Trying INKHUNTER First?
Most tattoo artists will allow you to test a design on your body using a temporary stencil before permanently inking it.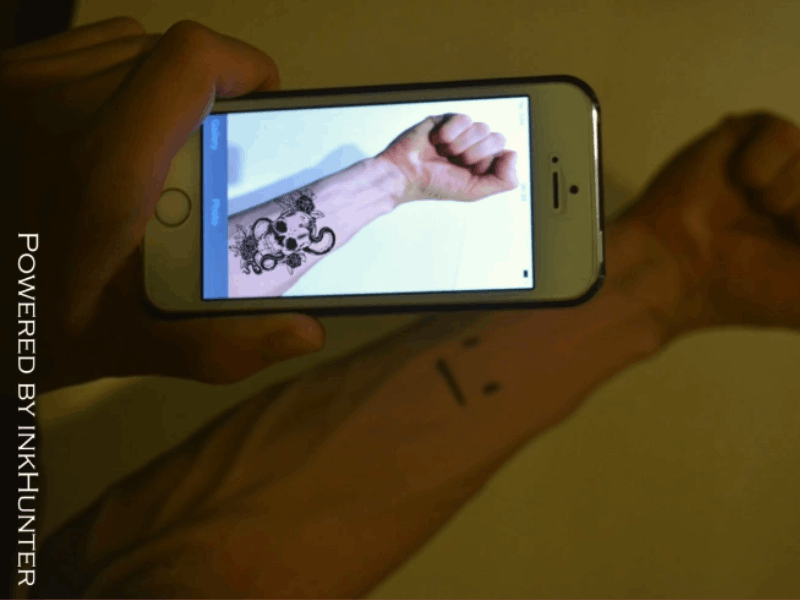 However, spending only a few minutes with a stencil is not enough time to decide whether or not you want to ink something onto your body permanently. And while there are other tattoo apps, most only display a picture of what the final tattoo will look like, which could be more helpful.
The INKHUNTER app allows you to test it out in real life for as long as you like and as often as you like. This will assist you in making an educated decision regarding your next tattoo, hopefully resulting in a more positive overall tattoo experience for you.
How Does INKHUNTER Help You Decide on Your Next Permanent Tattoo?
The application will project the desired design in real-time straight onto any region of the body that the user selects, allowing the user to experiment with different dimensions, shadings, and angles, among other things.
Interestingly, the INKHUNTER app lets you visualize the tattoo design you like in the best way possible. You can check if it looks good from different angles or if it will work if it is smaller or larger.
Moreover, you can try the different shadings of the ink to see if certain lines are better bold or not.
How INKHUNTER Promotes Tattoo Artists
As part of the INKHUNTER team's vision, they wanted to help tattoo artists worldwide. They are able to do that by giving them a platform where they could share their artwork and designs with tattoo lovers.
The INKHUNTER app showcases various designs of numerous tattoo artists from all over the world. In this way, you can get inspiration from their designs. In some cases, INKHUNTER users can immediately use the displayed designs as their permanent tattoos.
If you don't have the courage, you can try these designs through the INKHUNTER app. Thanks to the help of AR technology.
What Else Can You Do With INKHUNTER?
Aside from checking out these artists' designs, you may also curate your favorite designs. When you finally decide to have a new tattoo, you can choose among your collected designs from these artists.
The app allows its users to follow the artists not on the app but on their official website. INKHUNTER provides a link to the artist's page or site that you can visit to check more of their artwork.
Conclusion
The INKHUNTER app is a helpful tool for reducing the likelihood of a bad tattoo decision being made. INKHUNTER users can try out tattoo designs first with the help of AR technology to better visualize how the tattoo would look.