Do you want to connect to WiFi anywhere you want to go? How about staying connected to the internet while traveling? These are just some of the questions that can be answered with the help of Instabridge.
Instabridge is an app that lets you discover all the WiFi hotspots around you and lets you connect to them. With the help of other users, you can connect to any WiFi hotspot by sharing the corresponding password on the app. The app is easy to use and provides a solution to your internet connection problem wherever you are.
Find out how you can download and use this free WiFi app down below.
Never Go Offline Ever Again with Instabridge
Check the Current Connection Before You Connect
Powered by the Community for the Community
Here Are Some Important Things to Know About Instabridge
Discover the Benefits of Using Instabridge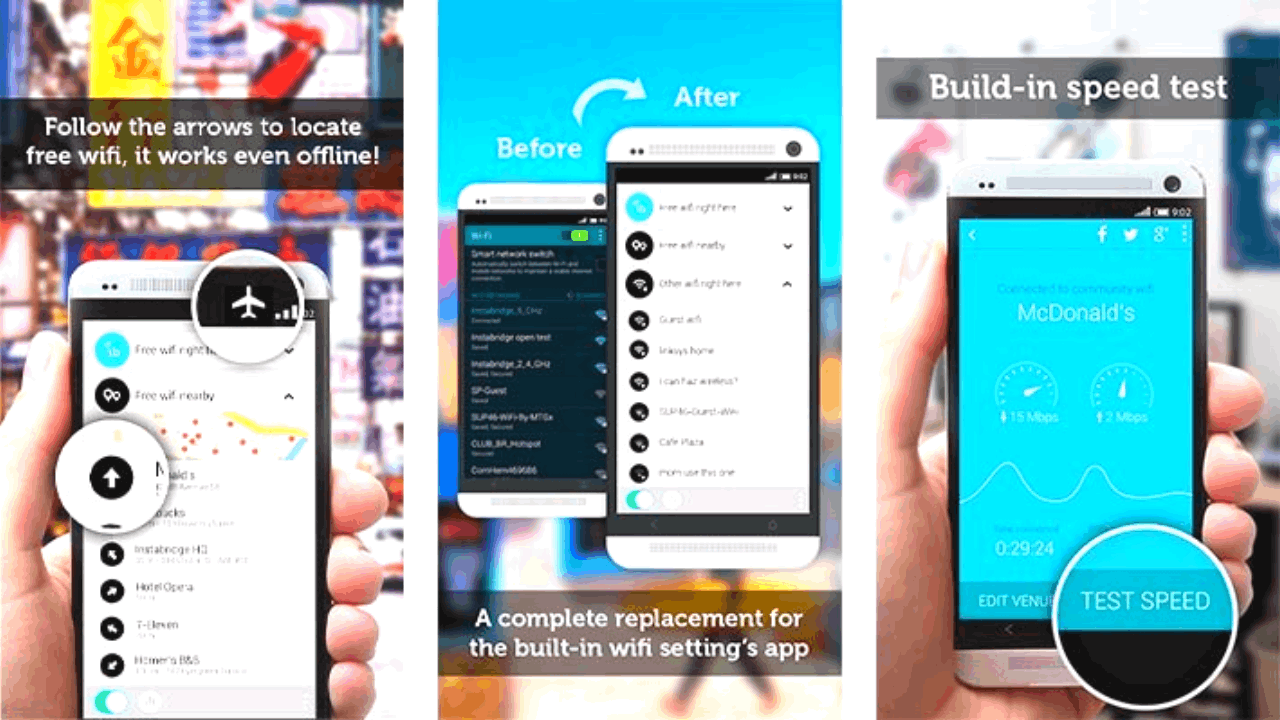 Never Go Offline Ever Again with Instabridge
Imagine traveling abroad and you find yourself having limited internet connectivity. You become worried that you might get lost in this foreign place without the help of the internet.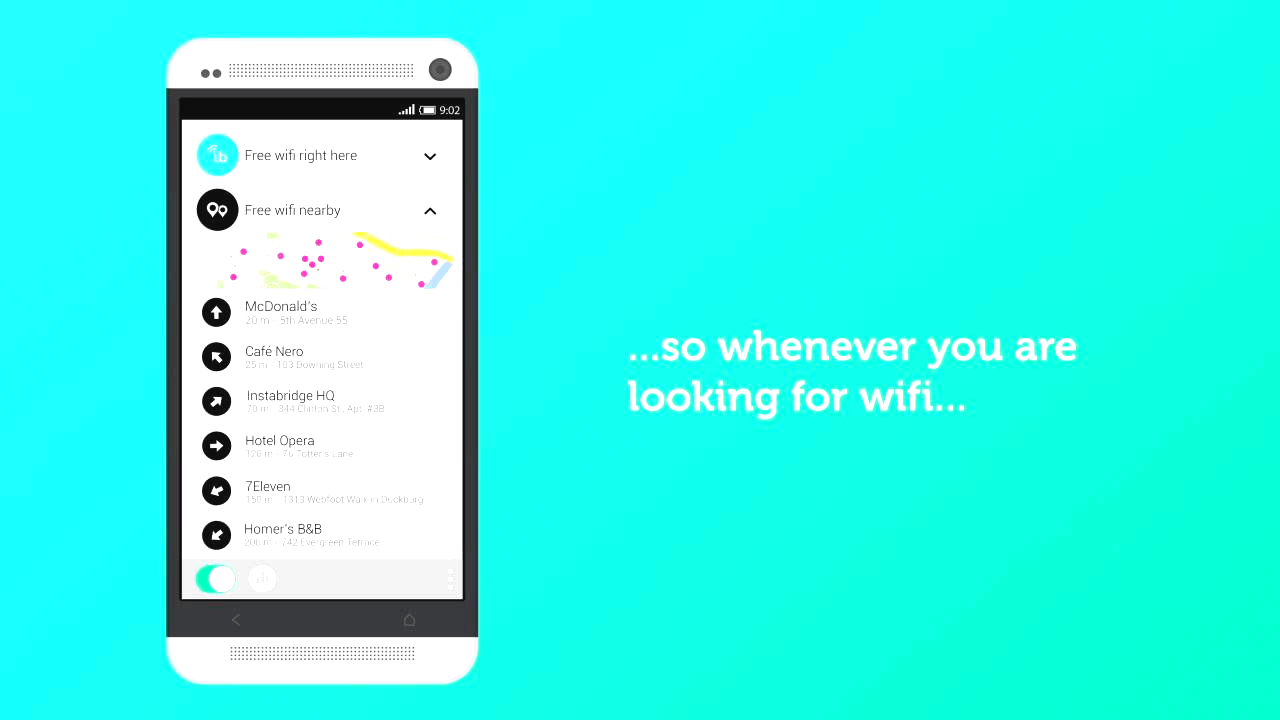 Fortunately, you have an app that lets you connect to the internet for free called Instabridge. The most basic function of the app is to provide you with an internet connection especially if you have already visited the spot.
It automatically connects you to any WiFi hotspot that you have already saved so you don't have to check in just to have the connection you need. What makes Instabridge very interesting is that you can also gain access to WiFi hotspots that you don't have the password to yet.
There is a community that provides the password for WiFi hotspots in the area thus allowing you access without having to go into the establishment to ask for it. This is quite helpful if you wish to stay connected to the internet everywhere you go.
How to Connect to WiFi Hotspots Wherever You Go
With the way Instabridge works, you would think that it is a very complicated process to stay connected. In fact, the app is very simple to use. You can immediately use the app to connect to any WiFi hotspot after downloading it.
Once you launch the app, you'll have a map of your local area where you can also find the different locations nearby that offer an internet connection. If you move closer to the location and if you have already connected previously, you will automatically connect to the hotspot.
If you have not yet connected, there's no need to worry. The app will give you the option to connect with the help of the community. Simply choose the hotspot you want to connect to and simply use the password given to you to connect. It's really that easy.
Check the Current Connection Before You Connect
While Instabridge is all about getting you connected to the internet automatically, you can still choose which hotspot to connect to. This is because the app allows you to check the quality of the hotspots first before you connect.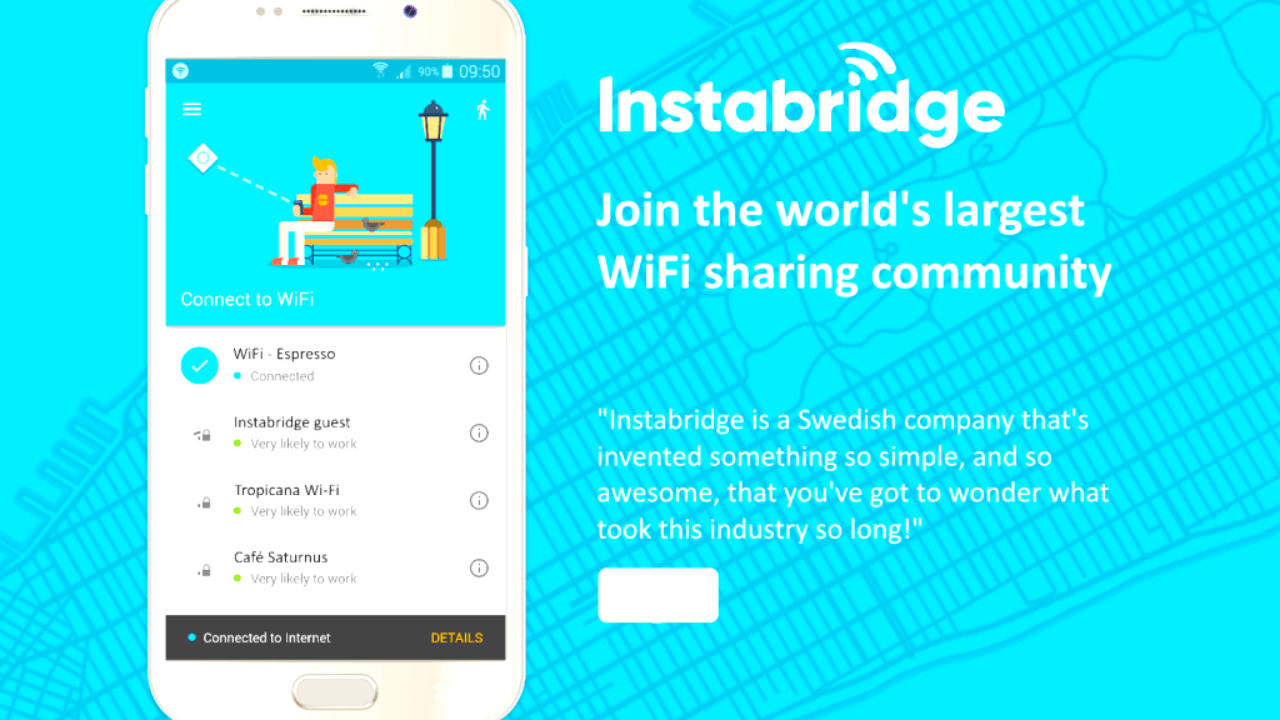 To use this feature, simply open the map and choose any nearby hotspot. Tap on the hotspot that you wish to connect but before doing that, you can run a test that should give you the results in a few seconds. The test will determine if the connection is stable and has good quality.
If the quality and stability of the connection are good enough for you, you can go within the hotspot coverage and connect automatically. Those who want a more stable connection can try other hotspots and repeat the process until they can find one.
This feature helps you avoid wasting a lot of time trying to connect and use an unstable WiFi hotspot.
Get Notification on the Quality of Connect You Have
Instabridge also provides you with a constant update on the quality of your connection that you have. You'll get a notification if the quality of your connection drops.
Several more types of notifications will tell you what is happening with your WiFi connection. You'll receive a notification if the device is connected to the hotspot or if you need to take further steps to connect to the WiFi.
You even get a prompt if the password you have entered is wrong. All of these notifications can also be customized so you'll only receive those that are important to you.
Powered by the Community for the Community
One of the best features of Instabridge is its community. Many of the aspects involving the use of Instabridge are through its community. This is the reason why we get free WiFi since the community contributes to how the app works.
Any user can add information such as the exact location of the hotspot and its corresponding password. Other users can also add more information such as updating the password or even providing some of their opinion about the hotspot and its location.
This is quite helpful for those who are not familiar with the area so other users will know which ones have good quality and which ones don't. Users are highly encouraged to offer information on the app.
While the app does not offer any monetary incentives to users who contribute, they are often given points and are acknowledged through a leaderboard.
Download the List of WiFi Hotspots for Offline Use
If you have plans on traveling abroad and you want to connect to WiFi hotspots for free, you can still use Instabridge even without an internet connection to locate the nearest hotspot. All you need to do is check the location where you want to use the hotspot.
You can then download the list of WiFi hotspots available in the area so you can still use the app even when you're offline. This feature is very important for those who travel a lot and want to stay connected on the internet.
This is highly recommended for those who travel to foreign countries and you do not want to avail of the expensive roaming charges.
Here Are Some Important Things to Know About Instabridge
Instabridge is an amazing app that lets you connect to a WiFi hotspot for free but there are also things that you need to know about the app. Instabridge should not be considered a WiFi tether since it acts as a tool to connect directly to a hotspot.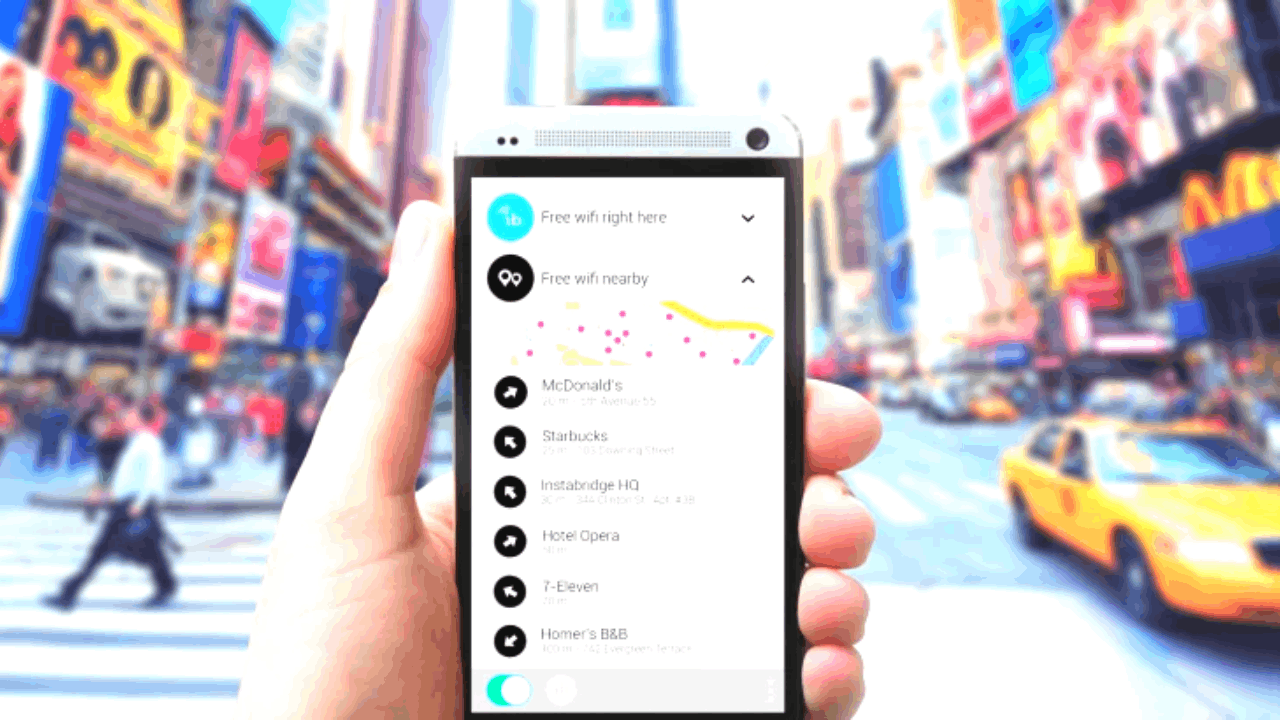 Additionally, no one should consider Instabridge as a WiFi hacker tool since it does not use any prohibited procedure to hack into a certain hotspot.
The app only brings you the information that you need to connect to the WiFi hotspot near you.
While it does automatically connect you to the hotspot, it only does so for hotspots that you have already visited. There is no hacking involved with this app.
Check Out Some Rules When Using the App
While the app does offer you an option to connect to any WiFi hotspot that you can find, there are still some rules that you need to abide by when it comes to privacy. Users should understand that you should avoid sharing WiFi passwords from private establishments.
The difference between providing the WiFi password of a restaurant is that it is given to the public. Privately owned hotspots should always be kept private and the app encourages you to do so.
This is a rule that you should be following especially if you're in a foreign country to avoid any privacy issues.
Discover the Benefits of Using Instabridge
With so many apps out there that help you connect to the internet for free, you might be wondering why you need to choose to use Instabridge.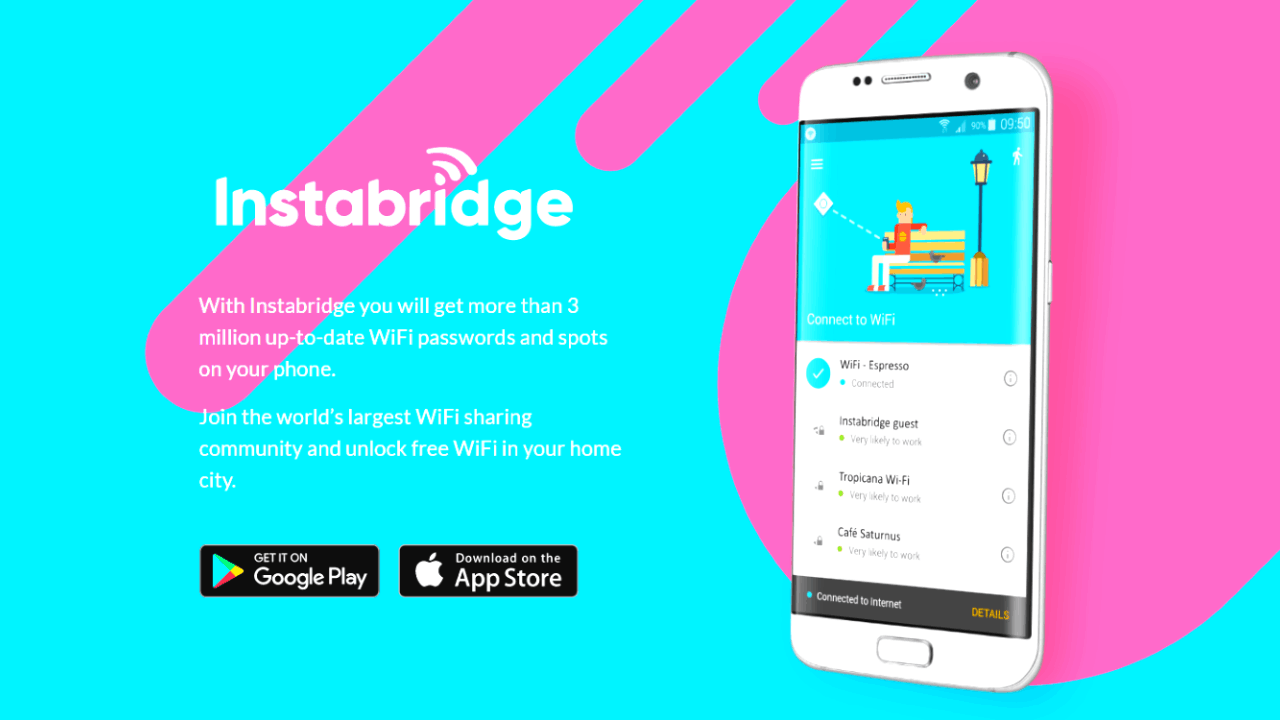 There are a lot of benefits to using Instabridge especially if you are used to traveling. The fact that you can connect to WiFi hotspots from all over the world is already a great benefit to you as a traveler.
The automatic feature lets you sign in and use the internet immediately. It is simple to use without having to undergo different procedures just to connect to WiFi.
The app is the ultimate solution for those who do not want to spend money on international roaming.
Where and How to Download the App
Instabridge is available to download at the Google Play Store and the Apple App Store. All you need to do is tap Install or Download and wait for the app to be fully installed.
Tap Open to launch the app. It will then ask permission for several settings on your device.
You may approve them all if you wish to take full advantage of the app's functions.
Conclusion
Instabridge is an app that gives you the convenience of staying online even if you are in a foreign country. The way you simply install it on your phone and use it without complications makes it a very practical app. Make sure that you download Instabridge on your mobile device and never go offline ever again.